Chief Dr. Patrick Osagie Eholor, the Global President of award-winning humanitarian group, One Love Foundation, has urged the leadership of the National Assembly and the Ministry of Foreign Affairs to investigate the alleged labelling of Nigerians as money launderers by the Chinese government.
Raising the alarm through a letter to the Senate President, Godswill Akpabio; Deputy Senate President, Barau Jibrin, Speaker, Tajudeen Abbas; Deputy Speaker, Benjamin Kalu, Majority Leaders of both Chambers and the Minister of Foreign Affairs titled 'Nigerian citizens in China money laundering allegation', Eholor called for an investigation on why every Nigerian would be tag a money launderer.
Read letter below: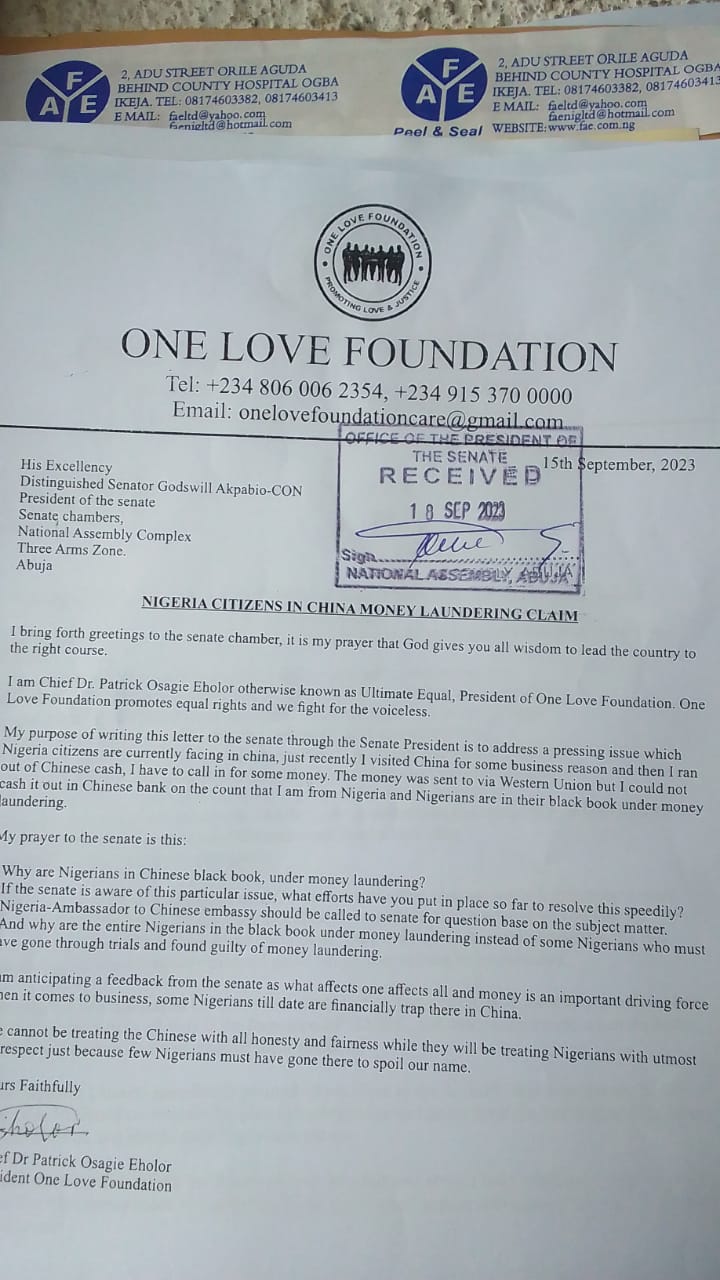 NIGERIAN CITIZENS IN CHINA MONEY LAUNDERING CLAIM
I bring forth greetings to the senate chamber, it is my prayer that God gives you all wisdom to lead the country to the right course.
I am Chief Dr. Patrick Osagie Eholor otherwise known as Ultimate Equal, President of One Love Foundation. One Love Foundation promotes equal rights and we fight for the voiceless.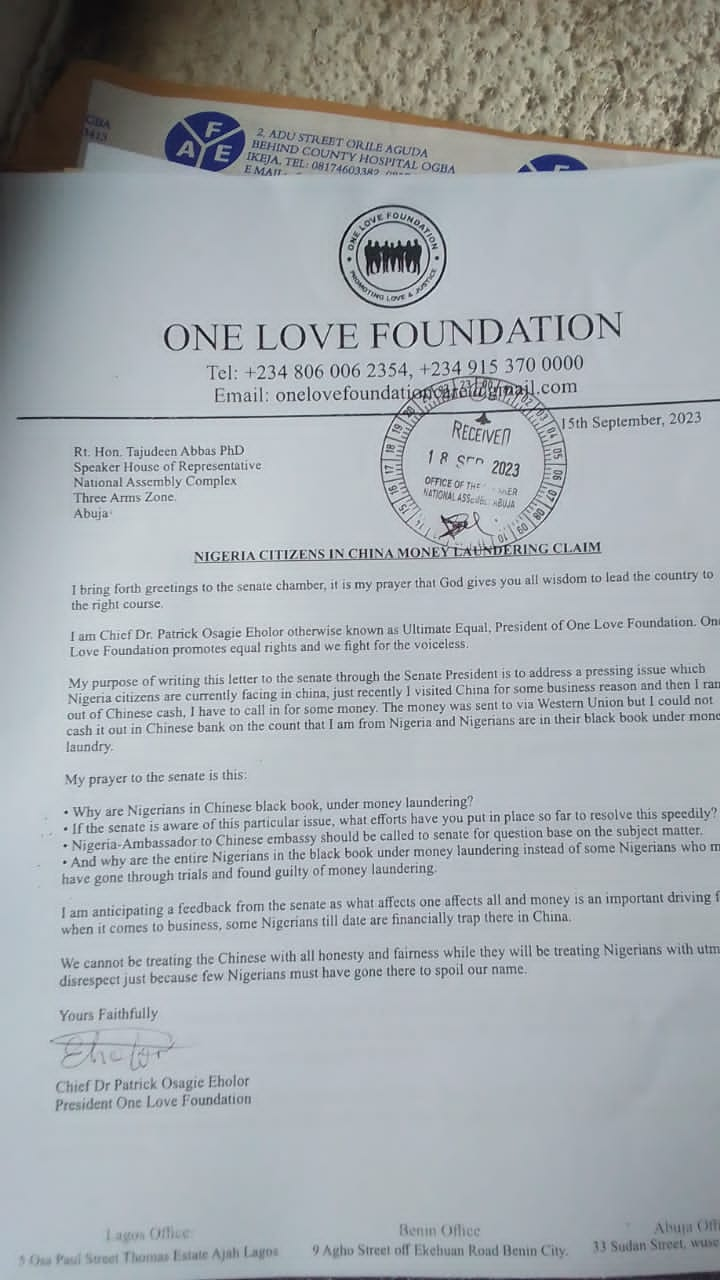 My purpose of writing this letter to the senate through the Senate President is to address a pressing issue which Nigeria citizens are currently facing in china, just recently I visited China for some business reason and then I ran out of Chinese cash, I have to call in for some money.
The money was sent to via Western Union but I could not cash it out in Chinese bank on the count that I am from Nigeria and Nigerians are in their black book under money laundering.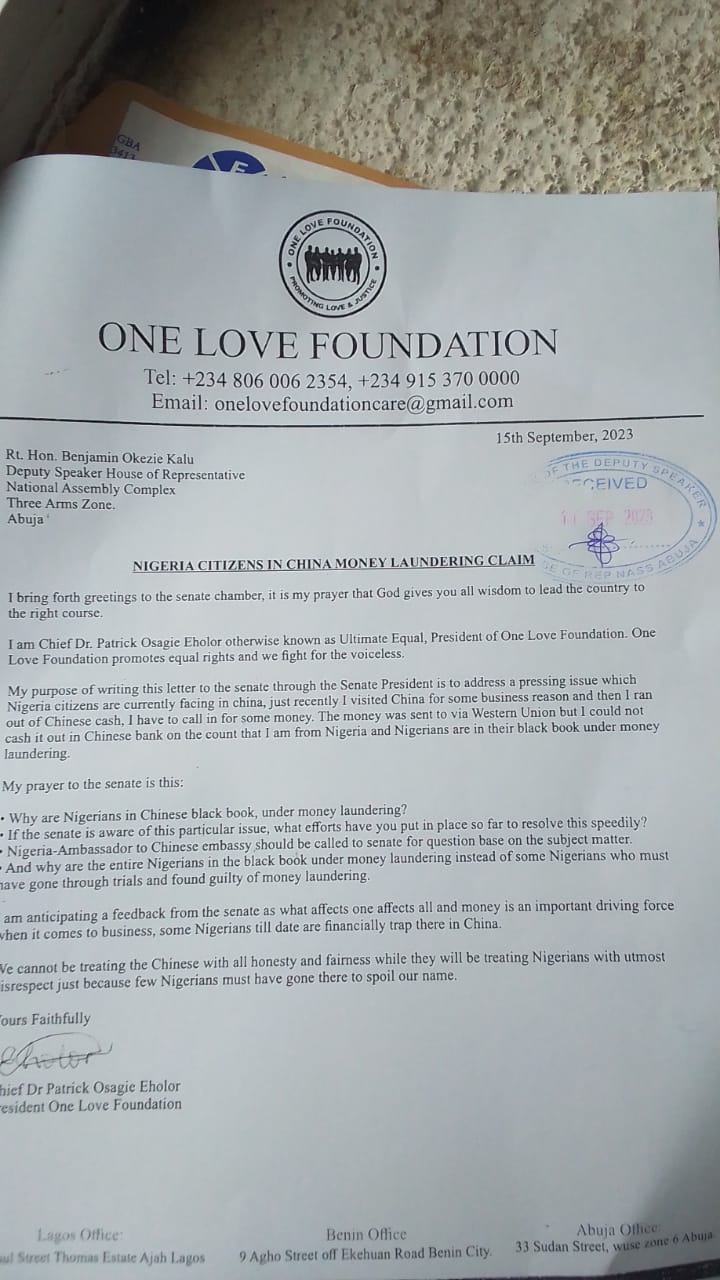 My prayer to the senate is this:
• Why are Nigerians in Chinese black book, under money laundering?
• If the senate is aware of this particular issue, what efforts have you put in place so far to resolve this speedily?
• Nigeria-Ambassador to Chinese embassy should be called to senate for question base on the subject matter.
• And why are the entire Nigerians in the black book under money laundering instead of some Nigerians who must have gone through trials and found guilty of money laundering.
I am anticipating a feedback from the senate as what affects one affects all and money is an important driving force when it comes to business, some Nigerians till date are financially trap there in China.
We cannot be treating the Chinese with all honesty and fairness while they will be treating Nigerians with utmost disrespect just because few Nigerians must have gone there to spoil our name.
Yours Faithfully
Chief Dr Patrick Osagie Eholor President One Love Foundation