Race For Delta 2023 Governorship: Okowa, Ibori In Supremacy Battle
That is why I say that even if there is a clash between Ibori and Okowa, it will lead to a compromise and an agreement.
For the first time in the political history of Delta State under the new democratic dispensation, a quake of massive proportions is about to call out the big wigs in the ruling Peoples Democratic Party, PDP, and make them declare their stand, ahead of the forthcoming general elections in 2023.
The sudden turn of events, which was certain to happen following covert political manoeuvr
Delta State Governor, Dr. Ifeanyi Okowa
Delta State Governor, Dr. Ifeanyi Okowa
es in the state since Governor Ifeanyi Okowa's re-election in 2019 and after he consolidated his grip on power and expanded his influence in the political party, took place on May 18, 2021 when the governor unexpectedly dissolved his cabinet in one fell swoop without hinting or consulting Chief James Ibori, his main backer and political leader, according to multiple authoritative sources close to the two leaders.
Okowa wielded the big stick and eased out all political appointees mostly made up of aides, protégés and associates of key party members. He has so far filled 10 of the positions with people believed to be his core loyalists.
According to the immediate past Commissioner for Information, Charles Aniagwu, who briefed journalists shortly after the state executive council meeting presided over by the governor, all the 25 Commissioners and the Secretary to the State Government, Chiedu Ebie; Chief of Staff, David Edevbie; Senior Political Adviser, Funkekeme Solomon; Chief Strategist, Festus Agas and Special Advisers were removed.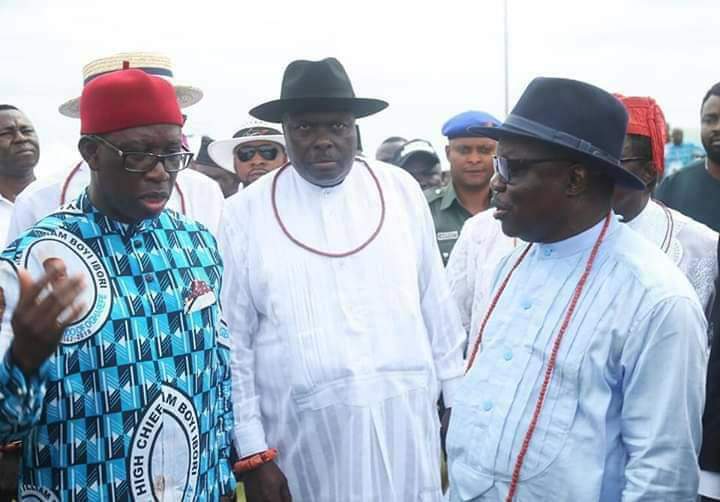 "The governor thanked and commended members of the dissolved cabinet for their contributions to the success of his administration in the past six years. The governor also directed that all the affected former appointees hand over to the permanent secretaries in their respective Ministries," Aniagwu said.
On Monday, May 31, Okowa appointed nine persons as his advisers. All were his loyalists. They include the pioneer Executive Secretary of the Delta State Oil Producing Areas Development Commission (DESOPADEC), Chief Andi Osawota, whom he appointed as his special adviser.
Mr Omimi Esquire and Chief Isaac Anwuzia were approved for appointment as political advisers to the governor, while Hon Kelly Penawuo, Chief Mary Iyasere, Chief Edwin Uzor and Chief Godwin Ogadi, were listed for appointment as special advisers. The appointment was contained in a statement issued by the State Head of Service, who doubled as Secretary to the State Government, Reginald Bayoko.
On Friday, June 4, 2021, Governor Okowa appointed Mr. Patrick Ukah as Secretary to the State Government, SSG, a post previously held by Ebie, a very close ally of Ibori.
Following the shocking sacking of the appointees and the tension it generated in the state's political circles, not many people were ready to volunteer information for fear of being caught in the brewing web of intrigues.
It was gathered from sources, who craved anonymity, that although Okowa and Ibori still maintain cordial relations, it appears that the governor is being his own man because it is absolutely clear that himself and Ibori are not on the same page on who succeeds him, come May 29, 2023.
Although the sources were united in saying that the possibility of the governor openly clashing with Ibori was remote, they submitted that their close associates were setting them up for a possible clash if the two key leaders do not manage the succession process tactfully "because their main men are singing discordant tunes and reacting to events including the cabinet dissolution differently and drawing lines in the sand."
For now, the sources told THEWILL, it is still not very clear how things will pan out. But one source was quick to add that what is certain is that one star is rising and another is setting.
Ibori built his political structure in 1998 and he has used it to decide the tone of politics in the state since then. But Okowa's involvement in the governance of the state reaches far back to 1992, when he was a local government chairman, after which he served twice as commissioner and then as secretary to government, as well as a senator before becoming governor in 2015.
Ibori's travails in London compelled him to limit his public appearances, but he has been aggressively consulting and engaging lately in the state. Only last August at the PDP convention held to elect a new exco, Ibori's absence set tongues wagging that he had lost grip of the party. But as it turned out, the former state Chairman of the party, Olorogun Kingsley Esiso and other members of the state's executive were returned unopposed after Okowa insisted on retaining them and got Ibori to support his decision.
As another source, a politician in the state puts it, Okowa and Ibori both have open political cheques to cash anytime.
The source said, "Give it to Ibori, he paved the way for Okowa to be governor. Okowa has also paid back his political debts to his predecessor. For example, he appointed Ibori's core men into his administration, brought Ibori's daughter into politics at a time some powerful forces were against it, made her his Special Assistant when he was Senator and helped her into the House of Assembly as a lawmaker.
"No, I don't see Ibori taking Okowa head on and I don't see Okowa taking Ibori head on, following the recent dissolution of cabinet. I also believe we should not produce a candidate that will pose a problem to the PDP in any governorship election. That is why I say that even if there is a clash between Ibori and Okowa, it will lead to a compromise and an agreement."
Another source, who advises both men, told THEWILL that Okowa and Ibori will meet during or after the 30th anniversary celebration of the creation of Delta State later this year to formally hold succession talks.
The Problem at Hand
Producing any candidate, one of our sources added, that gives the party peace of mind is actually the source of the challenge facing it at present. This may, in the long run, tear it apart and probably expose the two 'big men' to a possible clash, even if temporarily, before an agreement is reached.
According to a government source, sometime in February, Governor Okowa twice asked members of his cabinet and anyone holding political office who is interested in running for governorship in 2023 to have consultations with him, saying there were certain things he knew that might serve the interests of the aspirants and that of the party. He was said to have told those coming to see him to do so with a witness.
Deputy Governor, Deacon Kingsley Otuaro and Senator James Manager, representing Delta South at the Senate, heeded the governor's directive immediately. Edevbie; former Commissioner of Works, Chief James Augoye; a former Secretary to the State Government and Chief Strategist, Chief Festus Agas, and a former Senator, Chief Emmanuel Aguariavwodo, also informed the governor of their intentions.
What would however unsettle and annoy Okowa was that those in his cabinet with ambitions were holding nocturnal meetings regularly at the expense of their assignments and causing realignments within his cabinet without even waiting nor caring for his guidance on the matter.
Worse still, a political group called DC-23, an acronym for Delta Central for 2023, according to our source, had been put together to "force Okowa into giving the 2023 governorship slot to Delta Central with Edevbie, as their preferred choice."
Offended that members of his cabinet were undermining his administration by oiling their ambition without clearance, Okowa decided on May 18, 2021 to wield the big stick and send them all packing for "insubordination".
Okowa's immediate response
To douse the tension that had built over the matter, Okowa decided to address the problem frontally. On Wednesday, May 20, 2021, two days after he sacked his cabinet for what he described as a necessary move to save his administration from 'distraction', the governor said there was no written agreement on how the governorship seat should be rotated among the three senatorial districts in the state.
Okowa disclosed this during the Quarterly Media Briefing with journalists across the state in Asaba, the state capital.
He said, "A gentleman's agreement is an agreement that is not written and I want to believe that that is what it is supposed to be. There was no formal meeting where a gentleman's agreement was reached and that is the truth as at today.
"It means that whatever we are doing or talking about today is about what is fair, what is equitable and how to define what is fair and what is equitable and justifiable.
"On allegations of an intention to hand over to an Ijaw man, it is only God Almighty that knows who will be governor after me.
"I cannot pretend to be God. I don't know who God is going to bring and I don't have the intention of playing the role of God."
Okowa's statement came at a time pundits were alleging that he had reached an agreement with Ijaw leaders to ensure that his successor comes from the Ijaw ethnic nationality in the Delta South Senatorial District as a payback for their overwhelming support to his administration.
The governor's deputy, Otuaro and Senator Manager, who were the first to heed his directive to seek his clearance, are Ijaws.
Power Rotation
Although the governor said there was no formal meeting where a gentlemen's agreement was reached on power rotation in the state, it is believed that an understanding of sorts on that platform had helped the party to make all the three Senatorial Districts produce governors since the return to democracy in this dispensation.
Chief Ibori kicked off the arrangement for Delta Central and governed between 1999 and 2007. He was succeeded by Dr. Emmanuel Uduaghan from Delta South – 2007 to 2015 and then Okowa, who hails from Delta North.
The Current Challenge
With the three districts having taken their turns, three major debates have sprung up, according to pundits, ahead of the 2023 general elections. The first is that whether by right, the Urhobo should take the next shot or that the contest be thrown open to the three senatorial districts. The second is that if all the zones had taken turns, was there ever a time it was agreed that the Urhobo should be the one to start the game afresh? Thirdly, the concept of power rotation is based on politics as in senatorial districts and not on ethnicity, which inevitably translates into the constitutional right to contest.
It is to this third leg of the argument that the DC-23 bases its objective. Openly declaring its aims recently, it appealed to all aspirants to declare their intentions publicly and appealed to the leaders and party members in Delta South and Delta North, respectively, to allow Delta Central to produce the next governor of the state in the "interest of equity and justice."
The sound of the phrase"interest of equity and justice" has an ethnic bite to it. Although Delta Central was the first to start the game through Ibori's tenure, it is predominantly Urhobo. In the other ethnic composition of the districts, Delta South is populated by three major groups, namely the Ijaw, Isoko, and Itsekiri, while the north is made up of Igbo speaking tribes.
In his response to enquiries by THEWILL, Mr Sunny Appiah, spokesman of DC-23, described it as a lobby group and does not think it is too early to start campaigning for the 2023 governorship election.
"Aspirants at the presidential level have already started their campaigns, he said, adding that the group is loyal to Governor Okowa. Our leader Prof Sam Oyovbhaire has said the governor is not angry with DC-23." On Edevbie's ambition, he said he was not sure.
"Edevbie has never attended DC-23 meetings. May be some members are supporting his ambition, but I do not know him to be a member of the group," he said.
Attempts to reach Edevbie proved unsuccessful as his telephone line did not connect.
The Undercurrents
Before now, everybody who mattered in the politics of Delta State and even beyond, knew who was in unquestionable control of political affairs in the dominant oil rich state in the heart of the Niger Delta.
James Onanafe Ibori has dominated the politics of the state since he was elected governor in 1999 on the platform of the PDP. He literally chose all his successors, Uduaghan and Okowa, who is two years into his second tenure.
Although Ibori still moves and shakes the politics of the state at will, Okowa, according to THEWILL checks, is determined to assert himself as a dominant force and kingmaker in the state and will leverage on his influence and political experience to actualise this feat.
But, with the All Progressives Congress raiding the opposition PDP at the national level and snatching their governors with the southern parts of the country as prime target, things are not quite as certain and predictable in the politics of Delta.
After Ebonyi's Dave Umahi defected to the APC last year, many thought it was a one-off event, given the policy bent of that governor and his pro-President Muhammadu Buhari posture. Few weeks ago, Governor Ben Ayade of Cross River State, crossed the red, white, green line of the PDP to the green, white/broom, green line of the ruling APC.
Both Ebonyi and Cross River have been PDP states since this dispensation. They still are, relatively speaking. The party is still deep rooted in those states, but Nigerian politics is not deep.
Closer home in Delta State, former Governor Uduaghan defected to the APC on whose platform he contested the South Senatorial District poll in 2019. He lost his bid, but the gamble was too close for comfort for his former comrades in the PDP.
For one, Uduaghan is Ibori's cousin. Uduaghan's father, an Itsekiri, is related to Ibori's mother who is also Itsekiri. In fact, Uduaghan was brought up by Ibori's mother, having lost his mother during his childhood. So, he speaks fluent Urhobo, just as Ibori speaks fluent Itsekiri through his mother's influence.
Indeed, when Ibori wanted to contest for governorship in 1998, many thought he was Itsekiri because of his middle name, Jolomi, an Itsekiri name. Their politics is also watered by blood, but it proved to be skin deep when it mattered most.
So, when Uduaghan defected, it was a foreboding of future things to come for the party, a sure sign that the house that Ibori built was beginning to show some signs of weakness. No doubt, Uduaghan's defection was an outcome of a power play that went awry.
The former governor had wanted to make Sir Anthony Chucks Obuh, the Permanent Secretary in Government House, his successor in 2015.
Obuh was from the Delta North Senatorial District, which had been clamouring for their turn to be governor after the other two senatorial districts, Central and South, had taken their turns in Ibori and Uduaghan, respectively.
But the Urhobos kicked up so much fuss that Uduaghan, who was perceived to be trying to build his structure independent of Ibori's, while the latter was in prison, backed down and fell for the choice of another Urhobo, Edevbie, who was however, not the popular choice in that round of election and lost the PDP primary because Ibori got wind of the move and asserted his power in backing Okowa, a long- time associate since their days as members of the Peoples' Democratic Movement, founded by late General Shehu Musa Yar'Adua in the 1990s.
Having lost face, Uduaghan bided his time and as events unfolded, defected to the APC in 2019. His action, in a way, proved the truism in politics that the immorality of politics predisposes many politicians to do unpredictable things after they had grabbed power.
So far, another governor aspirant from Delta Central that has announced a bid is Olorogun Kenneth Gbagi, a former Minister of State for Education. Though his aspiration is a long shot.
Edevbie is said to have Ibori's support or at least the support of Ibori's key allies. His choice is said to rankle Okowa who considered his former Chief of Staff disloyal for hobnobbing with the DC-23, which by its public declaration wants to determine his successor by fiat. But, as a notable PDP stalwart told THEWILL, the one-time Commissioner for Finance has "some issues."
"Edevbie is not on the governor's list of favourite successors if the numbers were one million," said the political source, who added: "but you just never know. This is politics.
"Politicians are survivors. They do not want those who will retire them."
As things stand now, with Ibori tacitly supporting Edevbie and Okowa said to be against his former rival in the 2015 party primary, who appears bent on pushing his luck through the DC-23 platform, there is palpable tension in the politics of the state. "This can only be resolved through horse trading, but certainly not after Okowa and Ibori have tested their muscles," the source said, adding that with what he called the raiding formula of APC, nothing should be left to chance in the ruling PDP in Delta state.
THEWILL.